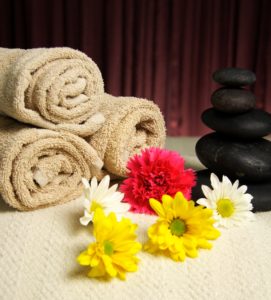 Our treatments embody our commitment to body, mind and spiritual wellness.
Each customized experience will elevate your spirit, relax your body and invigorate your mind.
Chair Massage
A great way to sample massage without having to disrobe. Emphasis is a placed on the neck, shoulders, arms, and hands. A great way to de-stress at lunch.

| | |
| --- | --- |
| 10 to 20 minutes | $1.00 a minute |

Combination Massage
Because a body's needs change a on a daily basis, this service provides a combination of Swedish massage, for those areas that need a more gentle touch, and firmer pressure for the areas of muscle tension.

Add aromatherapy for an additional $10.00

| | |
| --- | --- |
| 30 minutes | $40.00 |
| 60 minutes | $70.00 |
| 90 minutes | $95.00 |

Deep Tissue Massage
When more than firm pressure is needed. This massage goes deep into the tissues for work on intense body stress and muscle tension.

| | |
| --- | --- |
| 30 minutes | $50.00 |
| 60 minutes | $85.00 |

Touch of Chocolate Massage
Chocolate massage oil is used to delight your senses while our therapists work their magic on you.

| | |
| --- | --- |
| 30 minutes | $40.00 |
| 60 minutes | $70.00 |
| 90 minutes | $95.00 |

Hot Towel Massage
Enjoy the feeling of hot towels over your body along with the healing effect of aromatherapy. Specific oils will be used to reduce stress, muscle tension, and sooth tired muscles.

Hot Stone Massage
A relaxing, therapeutic massage with heated river stones and essential oils. This treatment is very relaxing and frequently requested.

Ion Cleanse Detox Foot Bath
Sit back and relax in a warm foot bath while your body gently detoxifies. With hundreds of acupressure and reflexology points, as well as the largest pores on your body, the feet are ideal for detoxification. Most people experience a feeling of lightness and greater well being after each session. See and feel the amazing results for yourself.

A perfect compliment to follow any body work service.
30 minutes
$35.00

Pre Natal Massage
This gentle head to toe massage is designed to give relief to the special needs of the "mother to be". Enjoy this most comforting experience where a body pillow supports the belly to help make the expectant mother relax.**Doctor note of approval required. Must be 13 weeks or further.

Tandem Massage
You and a guest relax in a room together while two of our therapists treat each of you with a customized massage.

| | |
| --- | --- |
| 30 minutes | $80.00 |
| 60 minutes | $140.00 |
| 90 minutes | $190.00 |


Chakra Balancing Massage with Essential Oils
Designed to restore Body and Spirit. This massage incorporates the best of our therapeutic Combination Massage, and energy balancing, using specific organic essential oil blends which correspond to the 7 main chakras. For those that like to get the knots worked out but want deep relaxation as well!
60 minutes$85.00


Reiki
A laying on of the hands to balance the mind, body & spirit. Calms the mind, relaxes the body, and lifts your spirits. This treatment is oil-free and client is fully clothed.

Foot Reflexology

A specific pressure technique on the feet to promote circulation, balance energies and activate the nervous system. This deeply relaxing yet therapeutic modality will leave you feeling like you are walking on air.

| | |
| --- | --- |
| 30 minutes | $40.00 |
|  60 minutes |  $70.00 |

AromaReflexology

Relaxing Aromatherapy Treatment with foot scrub and massage, steamed towels and 4 therapeutic oil blends. Finish with 30 minutes of Reflexology.
All times include changing and consultation. Please arrive at least 15 minutes early for your appointment to allow for any necessary forms or consultation. We cannot guarantee availability of services for late arrivals.
We accept cash, checks and all major credit cards for products and services, tips and gratuities are cash only.