Massage and Body Work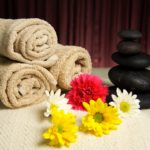 Our treatments embody our commitment to body, mind and spiritual wellness.
Each customized experience will elevate your spirit, relax your body and invigorate your mind.
All times include changing and consultation. Please arrive at least 15 minutes early for your appointment to allow for any necessary forms or consultation. We cannot guarantee availability of services for late arrivals.
A great way to sample massage without having to disrobe. Emphasis is placed on the neck, back, shoulders, arms and hands.
Our most requested massage. This service provides a combination of Swedish massage for those areas that need a more gentle touch and firmer pressure for the areas of muscle tension.
Hot stones placed on one body area of your preference for extra relaxation and heat therapy.
When more than firm pressure is needed. This massage goes deep into the tissues for work on intense body stress and muscle tension.
A relaxing massage with heated river stones and essential oils.
Doctor note required and must be 13 weeks or further. Our therapist is certified in pre-natal massage and will help the mother to be achieve stress relief and relaxation.
This massage incorporates the best of our therapeutic combination massage, and energy balancing using specific organic essential oil blends which correspond to the 7 main chakras.
Enjoy the therapeutic benefits of warm Himalayan Salt Stones in this deeply relaxing massage.
Cups are used to create suction helping to improve blood flow, reduce pain and assist with detoxification. Receive the benefits of Deep Tissue in a relaxing massage.
Add cupping to a specific body area during any massage
A specific pressure technique on the feet to promote circulation, balance energies, & activate the nervous system. This deeply relaxing modality will leave you feeling like you are walking on air.
Aromatherapy Spa Treatment with Reflexology. Adds essential oils, hot towels and foot massage prior to a 30 minute reflexology session.
A light touch modality intended to balance the mind, body and soul. Relax and let your spirit soar. Client remains fully clothed.
Sit back and relax in a warm footbath while your body gently detoxifies. With hundreds of acupressure and reflexology points, as well as a large number of sweat glands, the feet are ideal for detoxification. Most people experience a feeling of lightness and greater well being after each session. See and feel the amazing results for yourself. Ages 16+
**NOTE - We are unable to do the IonCleanse for the following:
Pregnancy or Breastfeeding
Blood thinning medication
Medication for Irregular heart beat
Medication to prevent organ transplant rejection
Current chemotherapy treatment
OR if missing a dose of the following types of medication have a negative effect:
Mental Health
High Blood Pressure
Service times include consultation and changing. Please arrive 15 minutes early to complete any forms prior to your service.
Cash gratuities are appreciated. Our staff thanks you!